Nouveau et méconnu, le métier de gestionnaire de communauté est en évolution constante.  Depuis un certain temps, on remarque que plusieurs s'improvisent gestionnaires de communauté. Mais « poster » sur Facebook et Twitter n'est pas suffisant pour être un authentique gestionnaire. Derrière l'activité de celui-ci, on doit entre autres retrouver une stratégie, un sens du marketing et un véritable know-how des outils de mesure et des médias sociaux en général. Lire cet article pour mieux comprendre.
Voilà pourquoi j'ai décidé de vous faire connaître davantage ce métier en vous présentant les pros œuvrant derrière les comptes que nous suivons tous les jours.
Aujourd'hui nous parlons de celle qui se cache derrière le compte de Bitchin Kitchen, Angélique Picanco. Comme Angélique est anglophone elle a répondu à nos questions en anglais.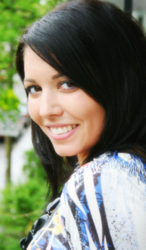 When did you create your Twitter and Facebok accounts?
The Facebook page was created sometime in early 2009. Twitter was created on January 12th 2009.
What did you study?
I studied at Concordia University, graduated with a B.Comm with a major in Marketing. I also took some journalism classes after I graduated.
For what brand/account are you community manager?
For Nadia G's Bitchin' Kitchen and Bitchin' Lifestyle.
For how many years have you been community manager?
I have been working with Bitchin' Kitchen for over two years.
How did it start?
I came across a job posting on craigslist. I applied as a part-time intern in social media. When I met Nadia, she explained what the job entailed and I was hooked! I loved the Bitchin' Kitchen web concept immediately.
What's a community manager main quality?
In order to be a great community manager you have to LOVE social media, enjoy engaging with people on a daily basis, and be able to express yourself with the right tone. I find that being a good writer or marketer helps with the communication element, but above all else, you need to believe in the brand you work for.
Describe your job in 140 characters.
Only 140 charaters? As a community manager I am extension of the brand, a thought leader.
What was your greatest achievment, most proud of?
Everyone's social media strategy is different. Personally and professionally speaking I would say that I am most proud of being voted the number one television show on Facebook and Twitter in Canada by SeeVibes.
What's the biggest mistake you've ever made as a community manager?
I think the worst mistake anyone can make is to take things personally. Never react to negative comments unconstructively.
What's the first thing you log in to at the start of day? Twitter, Facebook, emails, other?
In order, I would say that I check emails, Facebook, and then Twitter.
What's your favorite tool? Facebook, Twitter, YouTube, Thumblr?
Tough question. I like Facebook and Twitter because the interaction is instantaneous. I use Hootsuite to manage the accounts.
You mostly communicate in English. Do you also communicate in French?
Les deux. Mainly in English, but on occasion we do communicate in French.
Social medias are evolving fast. How do you keep up-to-date? Where do you get your info?
Personally, I am part of a few social media groups on LinkedIn that offer great resources. Digital Marketing and social media marketing. I also check in with Mashable.com.
What's the greatest challenge for your brand?
Stemming from months of relentless work from the Bitchin' Kitchen team both online and offline, the show being picked up by not one but two networks was a monumental accomplishment for our brand. The biggest challenge was changing the "traditional cooking show" stereotype. Nadia G was able to bridge the gap between music, cooking, and comedy and introduce a new cooking and lifestyle space for people tired of the same cookie cutter mold.
If you could choose a brand to manage, what would it be?
I am working for them already! Bitchin' Kitchen, hands down. They represent a culture in which I am truly connected too. Not only have I been here since Bitchin' Kitchen's web days, but I have had the opportunity to grow alongside them as well.
What does your day look like?
My day is a cross between creative awesomeness and multitasking! I come in and respond to overnight messages across all our platforms. Then, I discuss social media strategy with Nadia for the day. I engage our fans in real time on Facebook, Twitter, and Youtube and when I have a few spare moments I write content for the website and plan for upcoming weeks.
How do you see the future of the profession?
I think Community Managers are the future of Marketing and Customer Service. We are in direct contact with the most important people in any business, the customers, or in Bitchin' Kitchen's case, the awesome fans.
Any interesting anecdotes?
Fans have gotten our logo tattooed on their arms, a four year old named Adam started his own BK inspired blog with the help of his mom, and we have fans who make food in the shape of our logo. We appreciate them and they appreciate us! By chatting with them everyday, you start to get to know them, by name even!  I can't say it enough, we have THE best fans!
As a community manager, what's your biggest quality? What characterizes you?
I am passionate about my job. I "get it." I enjoy interacting with every fan. I love social media and the brand I work for, so I am, above anything else, honest in what I do.
What other community manager do you admire?
I drew inspiration from Nadia G. The online community has always been very important to her. Since Bitchin' Kitchen's web days, Nadia has been very hands on with the brand, engaging her fans and interacting with them on Facebook daily. When I came on board, I was able to work with her and develop the same enthusiasm for the community that she has. Ultimately, we've developed our own online strategy. I cannot say that anyone else really influenced how we interact with our fans, but we did build a strong foundation on what other pages did NOT have. When people join a group or page they want to matter, and I think we accomplish that.
What percentage of your social media time are you devoting to your personal accounts?
My own Twitter and Facebook? I would say I spend about 75% of my day online so it depends. If I spend the day on various social media platforms then I tend to take a break in the evening. I do enjoy tweeting though; I'm kind of obsessed. J
If you weren't a community manager, what would you do?
I have way too many hobbies and I fear I would try to make every one of them my job if I had the time! I'd either be a travel writer, or an entertainment blogger, wait… maybe I'd become a makeup artist for TV and film… or continue my photography classes. See what I mean? I enjoy blogging, so I know I would have an online presence, either way.
Do your family and friends understand what you are doing, or are you the one Facebooking and Twittering all day long?
It depends who it is. My grandmother doesn't get it – she thinks the Internet was invented by the devil. But my father and those close to me understand that social media is a powerful tool.
What would you recommend to someone attracted by the profession?
I'd recommend that they really evaluate what it means to be a community manager. They have to live and breathe social media. They can't fake it, otherwise people will see right through them. When I'm looking to hire an assistant, I ask them if they are familiar with social media, I often get " Yes, I'm on Facebook and Twitter". Not good enough. Social Media strategy is not like checking your Facebook home feed or stalking your old boyfriends.
Pour suivre Angélique Picanco
Facebook : http://www.facebook.com/angeliquepicanco
Bitchin' Kitchen: http://www.facebook.com/BitchinKitchen
Twitter: @Angelique_P & @bitchinkitchen
Blogue : www.bitchinlifestyle.tv
Youtube:  http://www.youtube.com/BitchinKitchenOnline
***
Autres portraits de gestionnaire de communauté